7 in Pennsylvania Pennsylvania64 Miles
Miles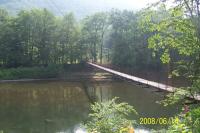 By Brad Morgan
on December 1, 2007
Written Directions
This route is really easy to find and follow. Just set to Williamsport, PA and get on Route 87 heading northeast and all the way to Mehoopany, PA.
Scenery
Lots of beautiful scenery as the road generally follows the bed of the Loyalsock creek ... resulting in a road with great scenery and plenty of sweepers. A mix of riding next to shear rock walls, picturesque streams with some rolling hillside farmland mixed-in for good measure.


Road Quality
It provides the perfect balance of sweepers, slightly tight corners and well placed open spaces for passing when needed. Very light traffic, almost no intersections. Nice road!
Roadside Amenities
This isn't a road for stopping - its a road made for riding!.


Additional Info
- View the weather forecast for this area from Yahoo weather .
Nickname (optional) : Brad Morgan