28 in Pennsylvania Pennsylvania140 Miles
Blue Ridge Mountain Windmills. Miles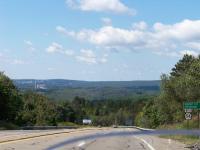 By Clutch
on June 1, 2009
Written Directions
Starting in Allentown take rt 22W to 309N. Follow 309N to just North of Tamaqua. Make left onto rt 54 follow through several coal mining towns to Ashland. Once done with the Pioneer tunnel (unique coal mine tour). head back on 54 to rt 61S. Follow this to many towns (tour the Yeungling Brewery). continue rt 61S to Hamburg make left into town then make right on State St (Old 22). Follow old 22 all the way back which turns into Tilghman St.
Scenery
The views you will see of Blue Mountain is always nice. You get to see real authentic & historically interesting coal mining towns along this path. They are old and rugged towns.
Road Quality
Most of the roads are great, some parts of route 54 is a little rough though.
Roadside Amenities
Lots of local restaurant/bars. Gotta stop in Ashland and go down the Pioneer coal tunnel and ride the Lokie.
Additional Info
- View the weather forecast for this area from Yahoo weather .
Nickname (optional) : Clutch