9 in Oregon Oregon60 Miles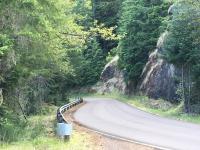 By John
on September 1, 2006
Written Directions
Start your route in Westfir, OR. From there you will want to get on FR-19 (Forest Road 19) and head north. This beautiful road will go for about 65 miles till it runs into Route 126 and ends (near a town called Blue River, OR).
Scenery
Lots of old growth Douglas firs, beautiful rivers and amazing vistas. You'll pass through mountains and the Willamette National Forest and pass by Cougar Dam.
Road Quality
There are lots of twists and great turns, great for cruisers or sport bikes. On the Oakridge side of things there are a few 12 feet wide spots of gravel. But I'm not sure if those are gone now.
Roadside Amenities
There are hotels and restaurants in Oakridge, along forest road 19 there are many camping and hiking opportunities as well as swimming.
Additional Info
- View the weather forecast for this area from Yahoo weather . - check out the Willamette National Forest
Nickname (optional) : John
By Guest
on August 20, 2009 0 out of 0 members found this review useful.
By Guest
on May 4, 2009 0 out of 0 members found this review useful.