64 in Ohio Ohio100 Miles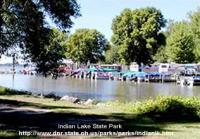 By Wingmaster
on October 1, 2006
Written Directions
This route is really easy to describe and follow. Just get yourself to McComb, OH and take OH 235 due south all the way to the route's end point of Dayton, OH.
Scenery
Scenery is pretty late spring to early fall. Sunsets during harvest catch the dust in the air and make for some blazing orange evenings.
Road Quality
Mostly under-used pavement and recently re-paved sections keep things smooth. Keep an eye out for the "bear" (police speed trap) between McComb and Ada. Also, please keep an eye out for slow moving farm machinery all summer and fall. Remember, they live and work here, and a lot of wet spots are where former riders finally tasted the John Deere green paint...
Roadside Amenities
Not a whole lot of places to stay or eat. Indian Lake State park is along the way and offers boating, fishing, camping, and picnicking. I suggest you take lunch in when you get to Ada.
Additional Info
- View the weather forecast for this area from Yahoo weather .
Nickname (optional) : Wingmaster