24 in New York New York80 Miles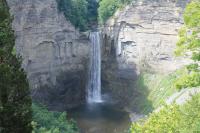 By Sotabob
on June 1, 2009
Written Directions
Start in Ithaca N.Y. Get on 89 north and take that north as it follows the western shore of Cayuga Lake. Take it until you get to Bridgeport and come to NY Route 5/US 20 where you want to take a right. Head east NY Route 5/US 20 to Auburn where you want to take a right (south) on NY Route 34. Take NY Route 34 south out of town and then split off to the right on to NY Route 34B. Take 34B as it heads south along the eastern side of Cayuga Lake and brings you down to the end point back in Ithaca.
Scenery
This ride runs through Taughannock Falls State Park where the tallest shear drop waterfall is east of the Rockies! You'll also take in beautiful Lake views along the way. This is a wonderful ride. There are many side trips one could make off this route to add even more interest.
Road Quality
Nice hills and valleys put together a few twists a turns along the way.
Roadside Amenities
Plenty of stuff to do along the way - camping, parks, tourist, tourist homes, wineries, and historic old towns. Be sure to stop at Taughannock Falls State Park and check out the falls. Ithaca offers a lot of interesting history including: home of early movie industry, Ithaca Guns, calendar clocks, Cornell University, and Ithaca College, Great Gorges.
Additional Info
- View the weather forecast for this area from Yahoo weather.
Nickname (optional) : Sotabob
By Guest
on July 12, 2010 1 out of 1 members found this review useful.
By MWB
on March 27, 2013 0 out of 0 members found this review useful.