Lake George into the Adirondack State Park & Museum + ADD NEW ROUTE
42 in New York New York75 Miles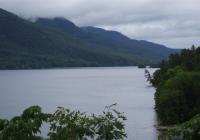 By KerriOber
on June 1, 2007
Written Directions
This Ride starts in Lake George, NY. Take Rt 9N North, along the western edge of Lake George. You wind up into the Tongue Mountain Range a bit, and when you get to Ticonderoga, get on 74 West. Check on gas, and pit stops along this stretch. No bathrooms or gas for while, once you get on Rt 9, again. Around Severance, you take a right onto Rt 9. Take that up to North Hudson, and take a left onto Blue Ridge Road which is also Rt 2. Stay on this road heading west as it takes you further into the mountains, and visit the Bison Farm. When Rt 2 dead-ends into Rt 28N, take a right which will bring you into and through Newcomb, NY. Just stay on 28N as it heads west and eventually turns south after Long Lake, NY. Continue on 28N as it turns south and takes you into Blue Mountain Lake then look for Rt 30 heading east. Take Rt 30 to the Adirondack Museum.
Scenery
The road starts out traveling along the western edge of Lake George, which is huge and stunning. Then you wind up into the Adirondacks, through some incredible ridges, and forests. Lots of places to stop and enjoy the scenery. There are some roadside attractions, though you'll start seeing a lot of abandoned stores and motels, as Rt 87 has drawn travel off this path. A little sad...On the way up, and back, there's a couple of towns worth stopping in for shopping or eating.



Lake George, NY
Road Quality
Lots of curves, climbs and twists. A few grades are steep, and there's a couple of deep curves on some serious declines. Rt 9n has great road quality. Rt 9N has some bumpy parts, but if you slow down a bit, it's fine. Most of the road speeds are 45-55 MPH, except on steep declines, and in towns. There won't be really much traffic at any point.



Adirondack Ural Museum
Roadside Amenities
On the way up you'll go through Bolton Landing, which is a pretty cluster of eateries, and shops. You pass through Ticonderoga, which has Fort Ticonderoga, of course. Once you head onto Rt 9 soon after, there's almost no places to stop for gas, or eats, for quite awhile. Coming back, after you go through North Hudson (you need to visit the Buffalo Farm) and are heading south on Rt-9 you can pass through Schroon Falls and continue down to Schroon Lake, where we stopped and ate at a great diner called Pitkin's (I think), which has been open since 1911. Great food, fantastic friendly service. Further down, you'll pass through Chestertown, which features Adirondack Ural. Stop and take a gander at these cool Russian bikes. Very retro! The ride terminates at an awesome museum - Adirondack Museum.



Adirondack Ural Museum
Additional Info
- View the weather forecast for this area from Yahoo weather.
Nickname (optional) : KerriOber
By Guest
on September 27, 2013 0 out of 0 members found this review useful.
By Guest
on May 22, 2010 0 out of 0 members found this review useful.