1 in Nevada Nevada131 Miles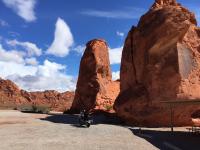 By Splash
on November 1, 2009
Written Directions
This route starts in Northeast Vegas and runs in a loop northeast of the city.

From Las Vegas: I-15 to Valley of Fire State park exit. Continue through the park and hit Hwy 167 towards Lake Mead. Right on 167 will take you back towards Hoover Dam/ Henderson/Las Vegas. At the end of 167 you can go left to Hoover Dam or right towards Henderson. Pick up Boulder Highway back to Vegas.
Scenery
Awesome scenery throughout the ride. Views of unusual rock formations and parts of Lake Mead are visible from several parts of the route.
Road Quality
Interstate 15 portion is good, state park road is good, the desert harshness has not been kind to Hwy 167. Not impassable, but a few bumps in the road got our attention. Hold on!
Roadside Amenities
Amenities are more plentiful at the beginning and end of the route around Las Vegas. Once off the interstate, not much available. The State Park has restrooms and a small visitor center and scenic waysides.
Additional Info
- View the weather forecast for this area from Yahoo weather .
Nickname (optional) : Splash