25 in Arkansas Arkansas71 Miles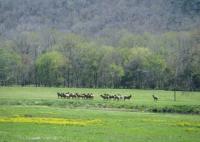 By Cruz'N
on May 1, 2009
Written Directions
Just start in the town of Elkins, AR and head east on Hwy 74 all the way Jasper. See online map.
Scenery
This takes you thru some of Arkansas best scenery. Boxley Valley is one of the few place where Elk herd can be seen in Arkansas. A real treat for the eyes and a 5 becauese of the wildlife and scenery you'll see along the way!
Road Quality
There are lots of gentle curves and some hills. The roads are old but they are still in good shape. There isn't much traffic most of the time.
Roadside Amenities
Not alot in the amenities on this ride. Jasper has some good places to eat. You can get an Elk burger here! Along this route you'll also pass by or through 2 wilderness areas (Upper Buffalo Wilderness Area and Ponca Wilderness Area) and 1 state park - Lost Valley Ponca State Park.
Additional Info
- View the weather forecast for this area from Yahoo weather .
Nickname (optional) : Cruz'N