From Mass to the Americade (in Lake George, NY) + ADD NEW ROUTE
7 in Vermont Vermont200 Miles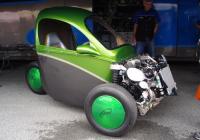 By KerriOber
on March 1, 2007
Written Directions
- From the rotary in Concord, MA.

- Head northwest out of Concord on Route 2A/119.

- Rt 119 will take you into Groton Center. You'll stay on Rt 119 West for about 60 miles and it will bring you into Brattleboro Vermont. You'll pass over the Connecticut River to get to Brattleboro. The cafe you'll see, on the right as you go over the river, serves a great pulled pork sandwich, and has seating on the river.

- In Brattleboro, you take a very brief right onto Rt 5, and go through the center of town. Now look closely for Rt 9W as there's a slightly confusing turn to get onto Rt 9W (just north of the town center)

- Take Rt 9W into Bennington, VT (45 miles), and continue on thru Hoosick, NY.

- In Hoosick, NY you take a right onto Rt 22N.

- Take 22N about 40 miles North, and around Granville, NY (note: 22A will spilt off going north ... stay on Rt 22) and continue on 22 till it takes you into Comstock, NY.

- In Comstock, turn left onto Rt 4S, and head south for about 3 miles until you see Rt 149 (in Fort Ann, NY) at which point you want to turn right and follow Rt 49 west for about 7 miles.

- Take a right on to Rt 9L and you are now on the homestretch heading north up to Lake George, NY - the route's end point.

Note: the Online Map above gives a good depiction of these directions but its not perfect.
Scenery
We are planning to attend Americade, the biker weekend in Lake George, NY, in early June. This is the route we plan to take, since it includes some great scenery in 4 states, good roads, and great places to stop. You go through mountains (Green Mountain National Forest in VT), see covered bridges, ride along rivers, great farmland, and travel along 3 designated scenic routes. You'll end up at Lake George, NY which is in the beautiful Adirondacks. You can't beat it with a stick! This isn't the quickest route there; however the point of the ride is fun, and scenery. Hope to see you there!


Road Quality
This route brings you through lots of different terrain. Some points are twisty, and there are points of the ride where you will be going through some real grade changes. However, you won't be doing it with an 18-wheeler on your butt, and there's plenty of places to stop, take a picture, and stretch. Road conditions are fine for the whole of this ride.
Roadside Amenities
We are planning to stop in Brattleboro for lunch, which has many choices for eateries, and then push on through most of the rest of the ride. There are innumerable places to stop, more than I can pinpoint here, but a few are illustrated on the road route. Look on Yankee Magazine's website for some great articles about spots along our route. I'd love to poach some of their pictures, but it wouldn't be ethical. Fill up for gas around Brattleboro, and you shouldn't have trouble finding gas for the rest of the route.

Americade is a great event to attend if you are interested in riding, but want to skip the shenanigans of Laconia Week. Lots of riding, a more mellow atmosphere, and a lack of congestion make this a dream event. Look on their website to find out more. We were highly recommended a place to stay: Still Bay Resort. I must say, although we haven't been there yet, the fella that runs it is a sweetheart, and the photos are great! They have their own beach on the lake, and it looks like an old-style resort. Needless to say, we can't wait to get there.


Additional Info
- View the weather forecast for this area from Yahoo weather .
Nickname (optional) : KerriOber