16 in Louisiana Louisiana53 Miles Miles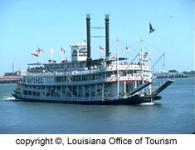 By "Judge"
on August 1, 2002
Written Directions
Scenery
A beautiful drive riding the Mississippi river levee. No amenities whatsoever, but no traffic. Beautiful fields, woods, long bridges, views of river lakes and locks.
Road Quality
Pretty much nothing from Lettsworth (Simmesport) to Vidalia (across river from Natchez). Take this ride for the scenery and unique road conditions … not roadside amenities! The roadside amenities come into play when you get to Vidalia and cross the Mississippi River to head into Natchez, MS ... there you'll find plenty to do.
Roadside Amenities
Near perfect blacktop surface, wide, smooth and curvy. Many tight curves riding up and then off the levee.
Additional Info
- View the weather forecast for this area from Yahoo weather . - Louisiana Tourism - B&Bs in Natchez - Natchez MS Information - Steamboat Cruise from Natchez
Nickname (optional) : "Judge"
By Guest
on September 22, 2010 0 out of 0 members found this review useful.
By Guest
on July 4, 2009 0 out of 0 members found this review useful.