Scenic Mississippi River Byway + ADD NEW ROUTE
7 in Illinois Illinois12 Miles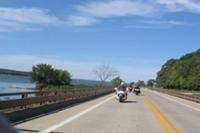 By Steve C.
on August 1, 2008
Written Directions
Easy to describe - just take Illinois Rte 96 Between Nauvoo & Hamilton.
Scenery
Fabulous Mississippi River scenic views along entire length of road.
Road Quality
Smooth road surface, slow sweeping corners that hugs the path of the river the entire time. Mostly flat.


Roadside Amenities
There are a few roadside picnic areas along route but other than that, nothing except at the starting point and ending point. If you are into history, there is an interesting and extensive Mormon settlement history in Nauvoo.
Additional Info
- View the weather forecast for this area from Yahoo weather .
Nickname (optional) : Steve C.