1 in Colorado Colorado225 Miles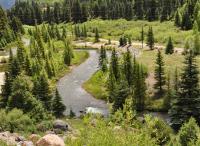 By Anonymous
on December 11, 1999
Written Directions
NOTE: A 12-mile section of this route (the section between Ouray & Silverton) is a very famous section of road known as the "Million Dollar Highway"!

This route is a loop so you can start anywhere on the loop and take the loop in either direction but my description below in the "roadside amenities" section describes the route starting in Ridgway, CO and ending in Telluride. Following my recommended route you start in Ridgway on Rte. 62 heading east and immediately get on Rte. 550. Take that road south all the way to Durango. From Durango, get on Rte. 160 heading west towards Mesa Verde National Park and the town of Cortez. Before you get to Cortez, you need to turn north on Rte 145 and that will take you all the way up to Telluride. You'll definitely want to stop in Telluride and take a look around, stretch the legs, grab some chow, and gas up. Once you get back on 145 continuing north, you'll want to head up to Placerville at which point you need to get on the road you started, 62, and take it east all the way back to the starting point of Ridgway, CO. A spectacular 225 mile loop!!



Scenery
This ride will take you through arguably the most beautiful sections of the Rocky Mountains as you follow a circular path through southwestern Colorado. You will pass through historic mining towns, national parks and forests and world-class ski resort areas. On this trip you will see the San Juan Mountains, home to many of Colorado's elite group of 14,000 foot mountain peeks. Along the way you will see red-rock canyons, lush river valleys, hot springs and majestic mountain peaks and an area known as the 'Switzerland of America.' Bottom line is GET READY TO BE TAKING A LOT OF PHOTOS ON THIS TRIP!!!.



Timing your trip to see the Aspens in their fall glory will make this trip even more special. These lovely Aspen groves provide a heavenly blanket of golden hues along the Uncompahgre Gorge.
Road Quality
You definitely want to be careful on this route. It has countless number of hairpin turns and switchbacks (with and WITHOUT guardrails) and the descents and climbs are almost endless. Make sure you take advantage of the many scenic turnouts to take a good long look at the scenery ... you will be surprised how glued your eyes will be on the scenery. Keep in mind, this alpine route will have you riding at over 10,000 feet three times on its path ... some bikes (like humans) struggle at these kinds of altitudes. Lastly, when planning any bike trip through mountains, keep in mind that the snow sticks around longer up there in the spring and returns more quickly in the year (you'd be safest in July/August).



One of the MANY things you can do along this motorcycle road is to take a relaxing tour on a vintage steam engine. The Durango & Silverton Narrow Gauge Railroad offers train ride packages that are based on changing themes (ex. "Balloon Rally Train", "Cascade Canyon Tour", etc) ... its a great way to see some of the beauty inaccessible to road travelers and to "slip back in time" and feel some of the emotions elicited by the same untamed Rocky Mountain Beauty that has been enchanting travelers for many generations.
Roadside Amenities
There are a large variety of amenities in this area of Colorado. The town of Ridgway was home to the set of Wild West movies such as True Grit and How the West Was Won. You can also visit old mining towns such as Ouray, Silverton and Telluride. Ouray was named after a Ute Indian chief and is home of a number of hot springs including one converted to a municipal pool. Silverton offers a look at a preserved Rocky Mountain mining town with its once elegant hotels and even a former red light district where the town locals stage mock gunfights on some summer evenings. The city has a museum and ample gift shops and places to grab a bite or a brew. Durango is the largest city in southwestern Colorado and as you walk its gas-lamp lit streets you will see its vast collection of beautiful brick and stone Victorian buildings that offer a multitude of souvenir shops, restaurants and hotels. It is also the starting point for the 'Durango to Silverton Narrow Gauge Railroad.' This authentic coal burning steam engine pulled train runs multiple times a day across the breathtaking route from Durango to Silverton. You will pass buy Mesa Verde National Park and will definitely want to stop by and visit the ancient Ansazi villages and cliff dwellings built here over 700 years ago. There you will see the 'Cliff Palace' that served as the home of more than 200 Anasazis. On the southwestern corner of the trip you will pass through Cherry Creek and see the area that gave western novelist Louis L'Amour the inspiration for his many novels. As you finish the loop of this route, one of the highlights of your trip may be the world famous ski-town of Telluride. Here you will find yourself in a town tucked close to awesome mountains in its own corner of a mountain valley. This Victorian town has ample activities including mountain-biking, camping and a large offering of shops and restaurants. It is also houses the historic bank where Butch Cassidy committed his first bank robbery in 1889. While there make sure you hike to Bridal Veil Falls and see the highest freefall waterfall in Colorado (the fall dives 425 ft).



There is a lot of history along this route covering different times and different cultures. In addition to the gold mining era historical sites, you will be able to experience some of far older historical points of interest such as the incredible cliff dwellings at Mesa Verde National Park. You can explore the various ancient architectural treasures from walking paths and learn from the many fascinating tours available.
Additional Info
- View the weather forecast for this area from Yahoo weather .



One of the many interesting towns you'll find along this route is Ouray Colorado. Ouray has an interesting history as well as some vintage "gold mining days" architecture that you can see and walk through when it's time to take a break from the road.

One of the dominating peaks along this path is known as Engineer Mountain shown in this photo.

The route offers some good scenic diversity as part of the route will pass through idyllic alpine mountain splendor, while other sections pass through canyon areas. When you get to Ridgway, you will have made it out of the mountain hugging roads and be traveling on some flatter sections with grand panoramic views of the surrounding ranges.
Nickname (optional) : Anonymous