Highway 74 - Hemet to Indian Wells + ADD NEW ROUTE
6 in California California50 Miles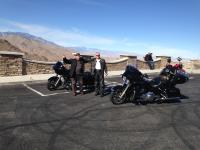 By Doghouse Riley
on March 1, 2006
Written Directions
Very easy to find. Get to Hemet, CA which is about 30 miles southeast of Riverside and west of the 215) . In Hemet, get on Route 74 and head east all the way into Indian Wells.
Scenery
Wonderful scenery. Pine forest on the Hemet side transitioning to desert on the Indian Wells side.
Road Quality
Starts out twisty as you climb to the top. Once at the top the road is fairly straight. Road gets twisty again as you descend into the Coachella valley.
Roadside Amenities
Not a lot along here but there are nice hiking trails and camping. A couple of restaurants. I can recommend Paradise Corner at the intersection of Hwy 74 and Hwy 371.
Additional Info
- View the weather forecast for this area from Yahoo weather .
Nickname (optional) : Doghouse Riley
By Guest
on April 13, 2009 2 out of 3 members found this review useful.
By Guest
on March 30, 2009 1 out of 1 members found this review useful.